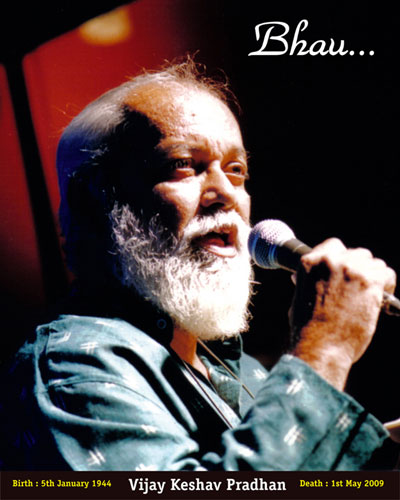 Birth : 5th Jan 1944 Death : 1st May 2009
Birth Palce : Dahod (Gujrat)
Education : Nutan Marathi School (Freelandganj) Dahod, Marathi Medium
R.& L. Pandya Highschool, Dahod, Gujrati Medium
Education up to 7th Std. He could not go to school or college due to Severe Traumatic Arthritis.
His reading habit improved his general knowledge when he was hospitalised.
He could read, write and speak Marathi (Mother tongue), Hindi & Gujrati.
He went to Ajmer (Rajasthan) W. Rly. alongwith the family, as his father was transferred to Ajmer from Dahod.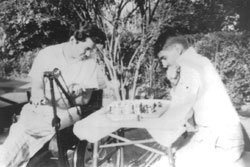 Their he was again hospitalised and correct diagnosis was done. But it was too late. His both the legs had become permanently disabled. He was again sent to Jagjeevanram Hospital (Mumbai) He was hospitalised for 13 months there.
During this period he increased & developed his vocabulary as well as general knowledge.
Then the family settled permanently in Dombivli, Dist. Thane (Maharashtra) after retirement of his father.
His paining in both the legs was reduced by treatment taken at Vajreshwari (Dist. Thane) at natural hot water springs.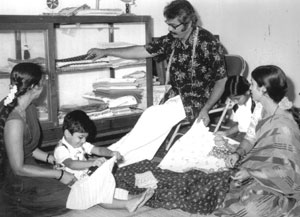 He never became a burden on his family. He worked hard & became self dependant by the self employment activities like Typing, Making of decorative lamps (akashkandil), selling of suiting, shirting & dress material of Hindusthan Mills. He also operated a stationary shop named 'Vidyarthi Mitra' and then a Public Telephone booth 'Nukkad Communication'. 'Nukkad' was a meeting point for his friend circle as well as a social activities centre.
In 1979 he started a library for children 'Swatantryaveer Savarkar Bal Vachanalaya'. It was a branch of Shivsena Shaikshanik Vibhag, Dombivli. Other activity of this educational wing of Shivsena was arranging educational camps with the help of qualified teachers for the students of Matriculation Exams.
In 1981 he went to Kashmir alongwith 'Apang Maitri', Mumbai. During this tour he gained his self confidence of travelling.
In 1986 he travelled on his tricycle from Dombivli to Delhi for 53 days for giving memorandum expressing problems of handicapped persons to the Late Prime Minister Shri Rajeev Gandhi.
In 1996 he established an association of physically handicapped persons known as 'Bharari Asthivyanga Vikalanga Sanstha', Dombivli. He was the president of 'Bharari' till his death.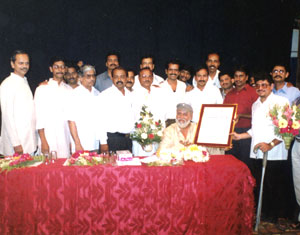 He was among the organizers of 'Shivshakti Balsanvardhan Shibir' (A nature cum adventure camp for students).
Though he was handicapped, his attitude towards life was always positive. So he joined various organizations in the society making a vast friend circle which always stood behind him through his entire life.
He was very much fond of poetry and Indian film music. He was a driving force behind Shri Ajit Pradhan (his younger brother) in his research work, presentation & organizing programs related to Indian film Music.
Though he was suffering from disease like Cancer for last two & half years, he accepted and faced the fate with courage and left for heavenly abode living behind inspiring memories of the determination, courage & joyful nature.