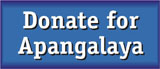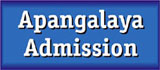 Apangalaya
Apangalaya... a home for Physically Challenged Persons!
This is the flagship project of Bharari. After the inception of Bharari, we started thinking of having a place where Physically Challenged Persons with problems of mobility and ill-health can be admitted and looked after. It took seven years thereafter to start such a home. Dr.(Mrs) Tata Naik offered us two adjacent apartments in Nilje, near Dombivli to start with a temporary arrangement. At this place we started the Apangalaya in 2004.
After seven years, we have shifted Apangalaya to a new spacious location at Sai Dhara Towers, Manpada-Mangaon, Umbarli Road, Near Vidya Niketan School, Dombivli (East). Physically Challenged Persons with total disability and ailing Senior Citizens are admitted here on priority basis. Presently, we have the provision for 30-35 persons.
Doctors on Bharari's panel inspect the applicants for their physical condition. Some medical tests are mandatory before admission. Admission is the sole discretion of Bharari's Panel. Monthly charges, Deposits and other charges are decided upon the physical condition of the patient. Please Contact us for details.
Some of the features of Apangalaya :
| | |
| --- | --- |
| | Good nutritious food as per Dietitian's advice. |
| | Recreation facilities like Worldspace Radio, Television, Music Systems, Books and Periodicals, Indoor Games etc. |
| | Caretaking Attendants of helpful nature. |
| | Visiting Physiotherapists. |
| | Doctors on call. |
| | Temporary admission for temporary disabilities due to fracture, paralysis. |
| | Temporary admission for patients with permanent disability, whose parents wish to go out of station. |
| | Temporary admission during medical treatment. |
| | Day Care Centre for Physically Challenged Persons. |